jetvision helps out with its flight director on the Day of German Unity
Coordination of air surveillance with the police. Enforcement of a TMZ/RMZ and a restricted flight area. The top of German politics comes by helicopter. Sören Kahle, flight controller at Halle/Oppin airfield in Saxony-Anhalt, saw these key data flying towards him on October 3rd, 2021. One thing was evident: the official celebrations for the Day of German Unity in Halle (Saale) would pose unusual challenges for the airfield with about 30,000 aircraft movements per year.
"We normally regulate air traffic in the classic way by radio and visual contact. But since the use of police helicopters is to be coordinated here, I didn't want to rely purely on radio messages if somehow possible," says Kahle, referring to the German Unity Day.
Fuss-free help from Bavaria
So they called Jetvision for help – and it became possible. Kahle knew that the Bavarian company was developing a new product for airfields and smaller airports that shows flight movements on a graphical interface in real time. jetvisionWithout hesitation, Jetvision's managing director Günter Köllner assured them of his support and made the software available within a few days: "As part of our brand promise to cover flight movements down to treetop height across Germany we equipped Halle/Oppin with one of our mobile sensor stations already last year", says Köllner about the history of the small project. "In addition, the airfield received access to our MLAT network with its 200 ground antennas throughout Germany. This gave them a convenient, filterable map display with all flying objects within a 100 km radius ", the managing director says.
A second workstation with a running Flight Director was quickly set up at the tower in Saxony-Anhalt. Not all features are in the current version of the software, e.g. the connection to the cash register system and other aspects of airport logistics are still being developed. But the main functions alone made Kahle's work a lot easier: "I mostly filtered the overview graphic with the specially drawn airfield circuits of Halle/Oppin according to altitude or speed. That way I only see the air traffic that is relevant to us. In addition, I can select individual aircrafts: whoever is just in overflight gets hidden with a click. Those who are approaching or departing are highlighted in green," said the flight controller in review of operating the software.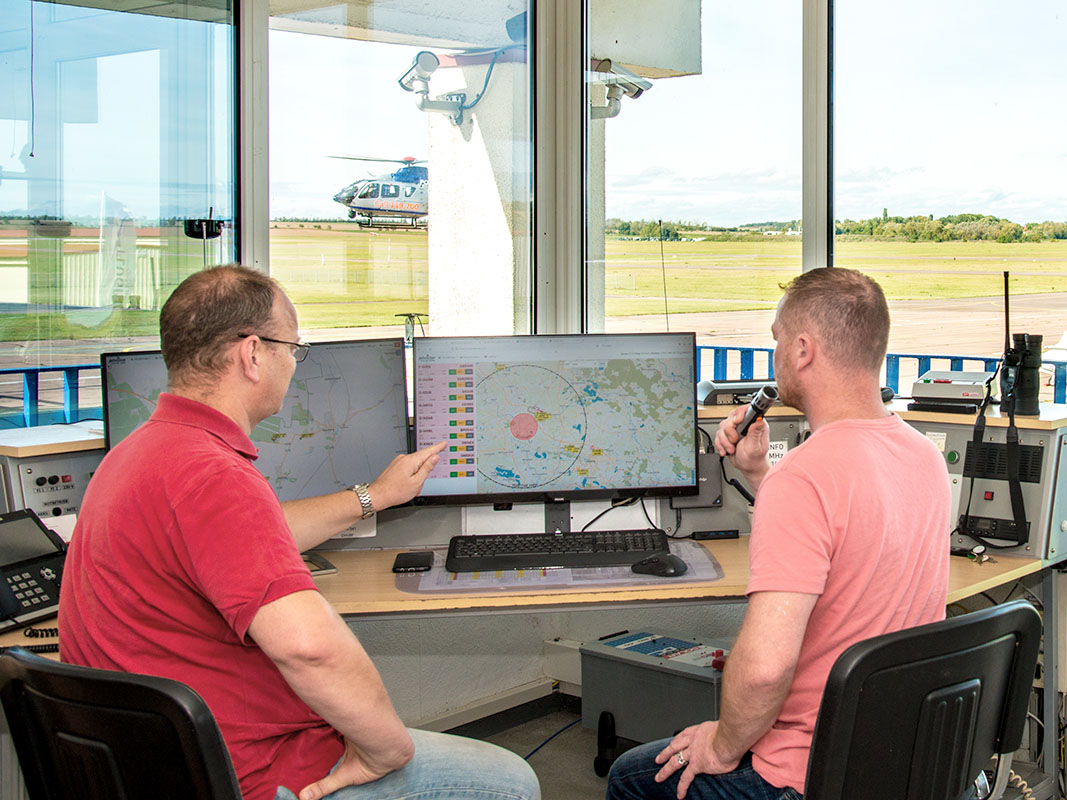 The flight controllers Giso Neubauer and Sören Kahle at work with the flight director.
Technology like at the major airport
The approach of chancellor Angela Merkel, who gave a speech at the celebrations, was exciting. Her aircraft was easy to identify by the license plate displayed in the flight director and the runway was quickly cleared of other aircrafts. "A small plane actually had to be intercepted by a police helicopter. Thanks to the special flight zones shown on the display, we quickly recognized it as a problematic case and coordinated with the police," the flight controller reported happily.
"The high precision and the clear display of information make decisions a lot easier. It is quite possible that we will keep the flight director permanently. It was like working for a large airport," says Kahle, looking back. Köllner added, not without pride: "But with more precise data! Large airports rely on radar systems. They provide less data than our network, which triangulates the position of airplanes very precisely from the signal sources ADS-B, MLAT and FLARM. As a plus, it works at altitudes of 30-500 m, in order to display the customers of small and medium-sized airports and airfields reliably on the screen."
Standard view with implemented Halle/Oppin course laps, as well as ED-R and RMZ/TMZ flight zones.
Streetview with airspace zones included.
ATC radar view with vector display of flight movements and integrated airspace zones.